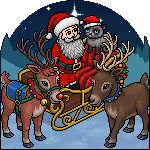 Dashing through the snow,
In a one horse open sleigh
The season is upon us, and for those who don't celebrate, enjoy your days off.
The fun thing about programmers is that even when they're off, they still like to program. It's kind of a hobby.
The same goes for me and I wanted to show you all these wonderful widgets I had created, but they take more time than it seems.
Updates
So since the last time I wrote, when Habbowidgets went into public beta, we have added a few things.
The main ones are the Badge top 50 and Achievement top 50. The former is basically what it says on the tin, the latter.. well that confused some people. You're all experienced Habbo users, so when you think of an achievement top 50, you think of Habbo's "Achievement Score".
Unfortunately this is not something that we can collect from Habbo. So instead we use a system where we basically count the levels of the achievement badges you have. While this does not account for the fact that some badges are way harder to get than others, if we do it for everybody than on average it gets pretty accurate.
But we also did a lot of other small fixes and tweaks here and there.
new

-labels on everything that's newly discovered
The Badge Owner widget, including the latest update of the Unique Badges
Discovering if someone is banned (but maybe that's more of a by-product)
The addition of Habbo.com.br and Habbo.es (and massive amounts of active users)
Seeing which Habbo we don't have in the system yet:

?

Seeing your 'top widgets' position on your profile, even if you're not in the top 50
Extended room information on your profile
What's next?
A lot can still be done. For example adding the Photos to your profile, making it so that Habbowidgets is translated in different languages, by actual Habbos and not by Google Translate. I'd also like to create more widgets. I had one idea where you could have a 'Badge Battle', for example compare VIK01 with VIK02 and see who would win. (Spoiler alert: Ducks beat dragons)
But as you can see, just opening both windows will show you, so this widget doesn't have a high enough priority at the moment.
Something that you won't really see, but that I really want to get working is some form of auto-updater. This will basically search Habbos in the background and as such always keep the profiles up to date. Ideally this could be based on whether someone has logged in recently or not, as not to search a Habbo who stopped 2 years ago. Or this can be based on the amount of badges or achievements someone has, or any change in their profile. As you can see, this still needs work..
But above all.. Thank you
We've seen a lot of love from you girls and guys on Twitter which is a great motivator.
If you want to share or ask something, don't hesitate and mention us at @habbowidgets!